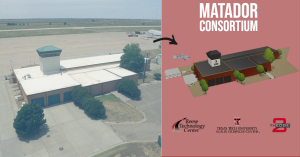 FOR IMMEDIATE RELEASE
On April 6, 2022, the Matador UAS Consortium held a summit to officially announce it would be addressing the outstanding regulatory, technical, and operational issues required to establish a national Uncrewed Aerial System (UAS) corridor infrastructure for commercial transportation.   This Consortium of leading UAS affiliates and agencies includes:  Texas Tech University Health Sciences Center, 2THEDGE, Reese Technology Center, South Plains College, Texas Tech University Innovation Hub at Research Park, Lubbock Economic Development Alliance, the City of Lubbock, Texas Tech University School of Veterinary Medicine, UMC Health System, Covenant, LifeGift, and various other industry partners in rural healthcare, research, and transportation/logistics.  Together, the Consortium leaders aim to shape the UAS industry in the United States and beyond by accelerating research and platform development necessary for commercial UAS operations.
Consortium partners believe that drones hold the promise of transforming our ability to rapidly deliver critical supplies across rural and urban environments.  The Federal Aviation Administration (FAA) currently restricts UAS operations to Point-to-Point flight paths that require review and approval for each flight route.  The Matador UAS Consortium, by leveraging the assets of its partners and collaborators, hopes to establish a model for national UAS corridor infrastructure to eliminate these costly and time-consuming processes.  The industries supported by this research include:  procured organ transplantation, search and rescue services, crop management, rural healthcare, renewable energy infrastructure, herd management, large animal sample transport, and drone tech and operations job training.
The Consortium is developing commercial use cases to serve as a proof-of-concept model that can be used across the U.S.  In order to do this, the partners must have a physical center of operations for equipment storage, maintenance, data gathering tools, controls, administrative functions, research, etc.  The unique combination of features needed for this centralized operations center can only be found in one place:  Reese Technology Center.   By transforming the former fire station into a world-class drone facility, Reese can support the acceleration of this technology to commercial applications.  The facility will have the benefit of security, privacy, and direct flight line access in a rural setting with opportunities for collaboration with other industry and research partners on campus.  No other facility in the state is more perfect for this initiative than Reese Technology Center and we are proud to host this innovative vision that is bridging academia and industry to save lives, time, and money.
To learn more about the Consortium's objectives or to get involved, please contact Tyson Harmon of 2THEDGE at STEP_Forward@2thedge.com.
2THEDGE provides agile Testing and Experimentation as a Service (TEXaS) support model to accelerate an organization's ability to rapidly identify, test, and implement new capabilities.  Its Chief of Technology Reconnaissance, Tyson Harmon, is a co-founder of the Matador UAS Consortium.
Dr. Phil Sizer, an Endowed Professor in Pain Science and Associate Vice-President for Innovation at TTUHSC, co-founded the Consortium with Harmon.  Born from the vision of these two innovators, this collaboration has the promise to change the face of rural healthcare and drone technology commercialization.
Reese Technology Center is a former United States Air Force Base.  Closed in 1997, Reese AFB was transformed into a Business and Research Park with the goal of economic development for the region.  Now, over 25 years later, Reese has become one of the most successful redevelopment stories in the United States.  Housing over 25 different companies from both the public and private sectors, Reese continues to provide economic opportunities for the South Plains and beyond.  To learn more about Reese Technology Center, visit www.ReeseCenter.com.
###